Can you teach an old car new tricks? You can if it's a restomod.
Short for restored but modified, restomods are classic cars with modern technology, an increasingly sought-after commodity.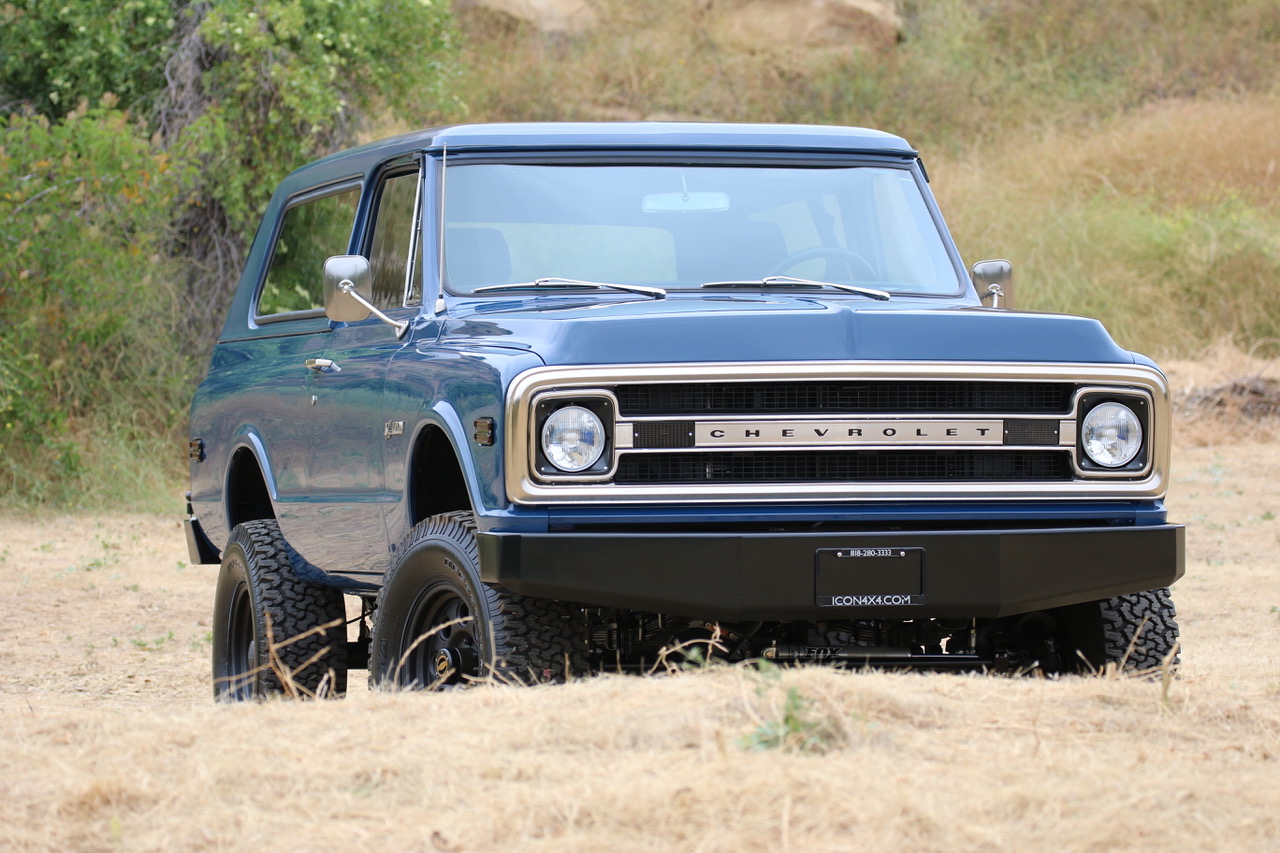 If you are contemplating purchasing a vintage car, or already own one, you might want to consider adding some features to enhance its performance, safety, and comfort. But keep in mind that you could end up affecting its value since collectors of certain cars prize originality over modernity. They prefer restoring the car to its original factory specs using original parts, just as if it just left the factory. To them, the essence of the car is inexorably changed when modern technology is added. But this typically means a car that can't start, steer, or stop as well as something more modern.
If originality isn't as much of a concern to you, and you would prefer to modernize its feel, then adding modern technology to a classic car is worth investigating.
But how much you add and how it's installed can make a huge difference in classic cars with modern technology.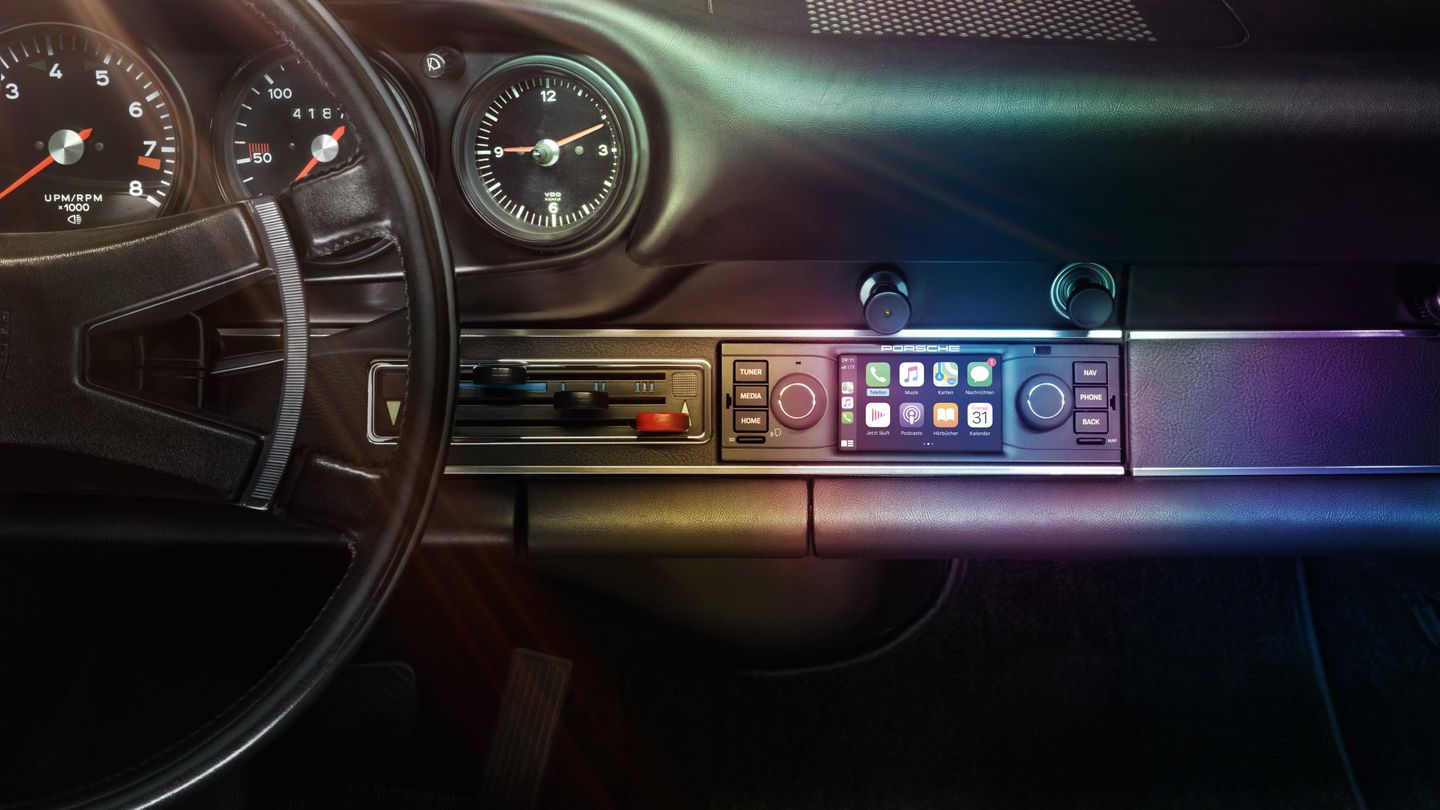 Audio
For instance, there are a number of manufacturers of vintage car audio with controls that look original—except they come equipped with Bluetooth and have an input for smartphones and MP3 players. Porsche just debuted a new set of touchscreen head units that fit into the dash of a 911 ranging from the 1960s to the early 2000s. They're aesthetically pleasing and even offer Apple CarPlay functionality. Add some modern speakers under your car's original speaker covers and who would know the difference? Perhaps only a concours judge.
If you drive your car regularly, you might want to consider a removable smartphone mount so that you can use it for navigating, or as a backup camera. Backup cameras are so essential, they're about to become mandatory in new vehicles sold in the US, so why not add it to your vintage ride? There are now various wireless cameras that mount to a vehicle's license plate frame, and use your smartphone as a display via Bluetooth or Wi-Fi. Some even include infrared night vision, allowing you to safely backup at night. Typically, they do have to be manually activated—they don't come on when you shift into reverse, but it's a small price to pay, seeing as so many vintage cars have extremely poor rear visibility. Since it attaches to a license plate frame, it's easy to remove if you're going to a show to be judged.
This is one example of what's available that's easy to hide on classic cars with modern technology. Other changes are more noticeable but worthwhile.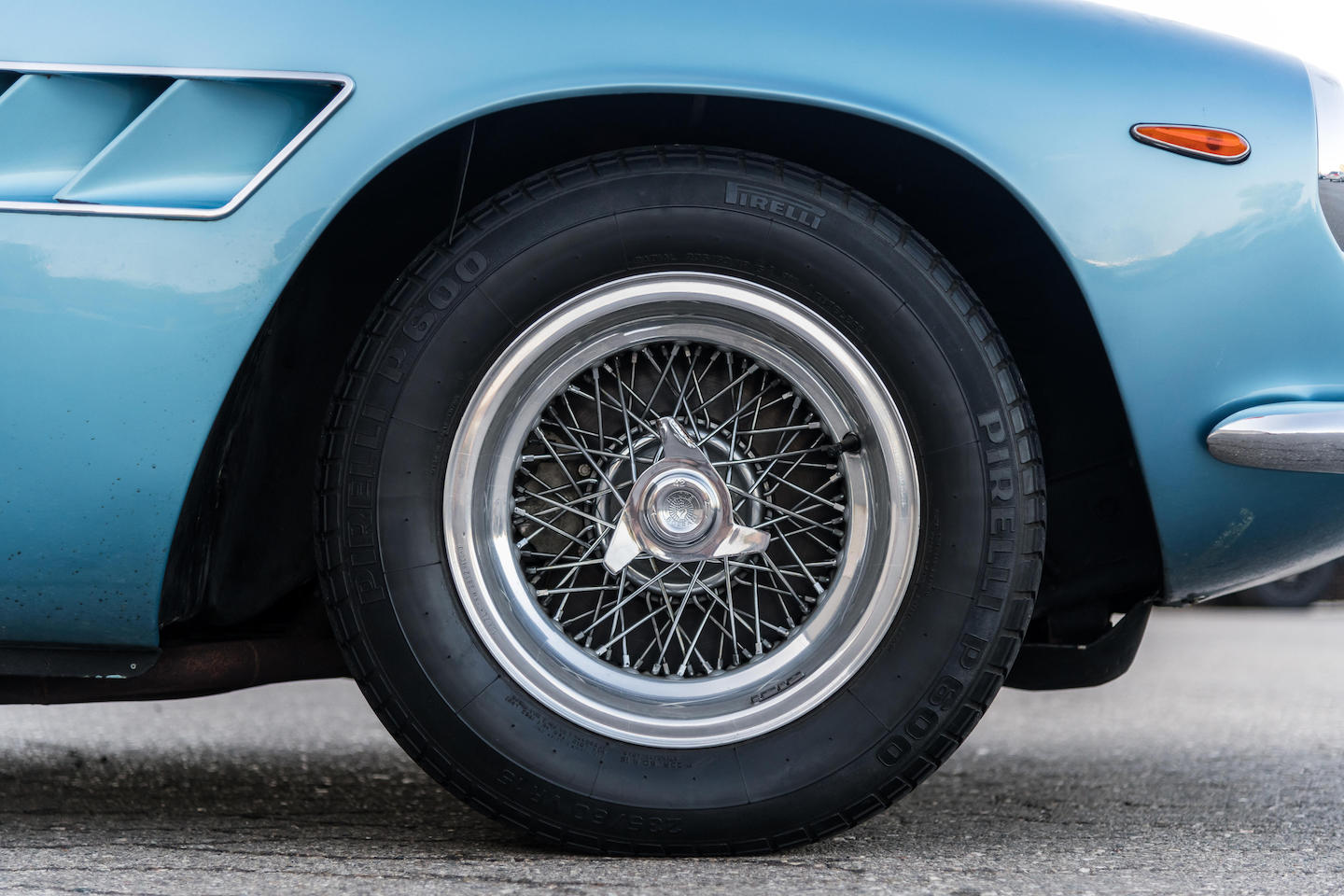 Tires
If you have ever had to drive on cold bias-ply tires, you know just squirmy they can be. The construction of a bias-ply tire leads to a higher rolling resistance, which leads to faster tread wear and higher fuel consumption. And its construction allows the tire to flex easily, which delivers a smooth ride. However, it can cause the tire to lose traction in corners. Nonetheless, if you want an authentic tire that was used in your pre-1970s car, this is what you want.
But if you're going to drive your car regularly, radial tires are a far better choice, and a great example of classic cars with modern technology. Their tread does a far better job of gripping the road while cornering and under load. Lower rolling resistance improves fuel economy and provides for a longer tread life. And they tend not to follow imperfections in the road like a bias-ply tire, so the car doesn't wander (or tramline) as much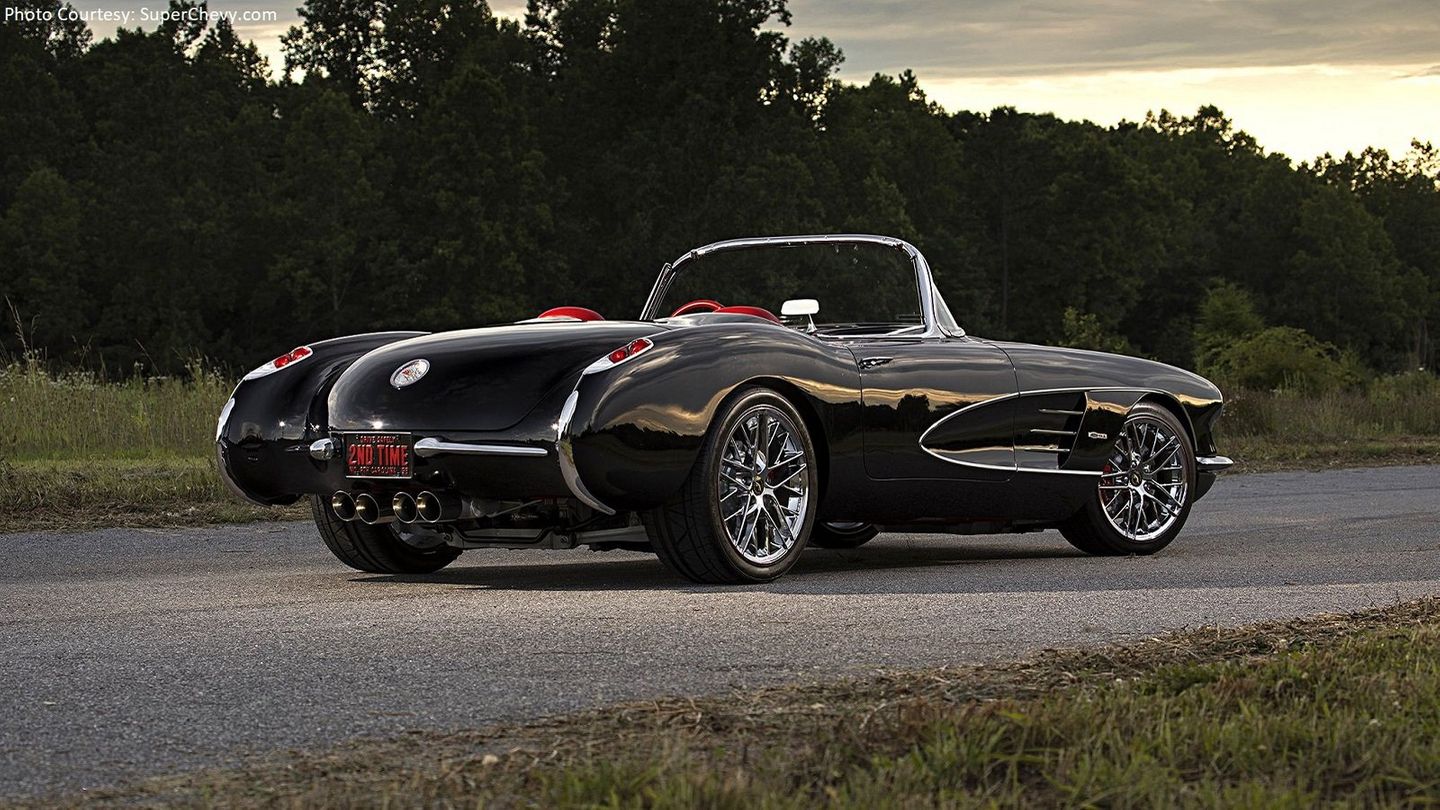 Brakes
But wait, there are other changes you do to improve handling and safety.
Most cars built for the first 70 years of automotive history used drum brakes, which overheated resulting in brake fade (a loss of stopping power). The introduction of disc brakes was a big improvement; most modern cars are fitted with four-wheel disc brakes. And while you can fit disc brakes to an older car, you might want to switch its single master cylinder to dual master cylinder. A single reservoir master cylinders provides pressure to both the front and rear brakes. But if part of the system leaks, it's possible that your brakes will stop working. With a dual master cylinder, part of the system services the front brakes, the other the rear. This gives you a much better chance of safely stopping the vehicle should a problem occur. Even if you keep the original brakes, this is still a good idea. Also, consider replacing rubber brake-line hoses with braided stainless steel. The change truly improves pedal feel, and is one example of how safety is a big factor when it comes to classic cars with modern technology.
It's important to remember that all of the components in the braking system are designed to work together, from the brake pedal travel to the master cylinder, to the brake proportioning valve and brake size. If you're going to upgrade your brakes, make sure that you buy an upgrade kit from a reputable firm that understands all that has to be changed, or take it to a shop that does. And keep in mind that a great set of tires can help in this regard as well.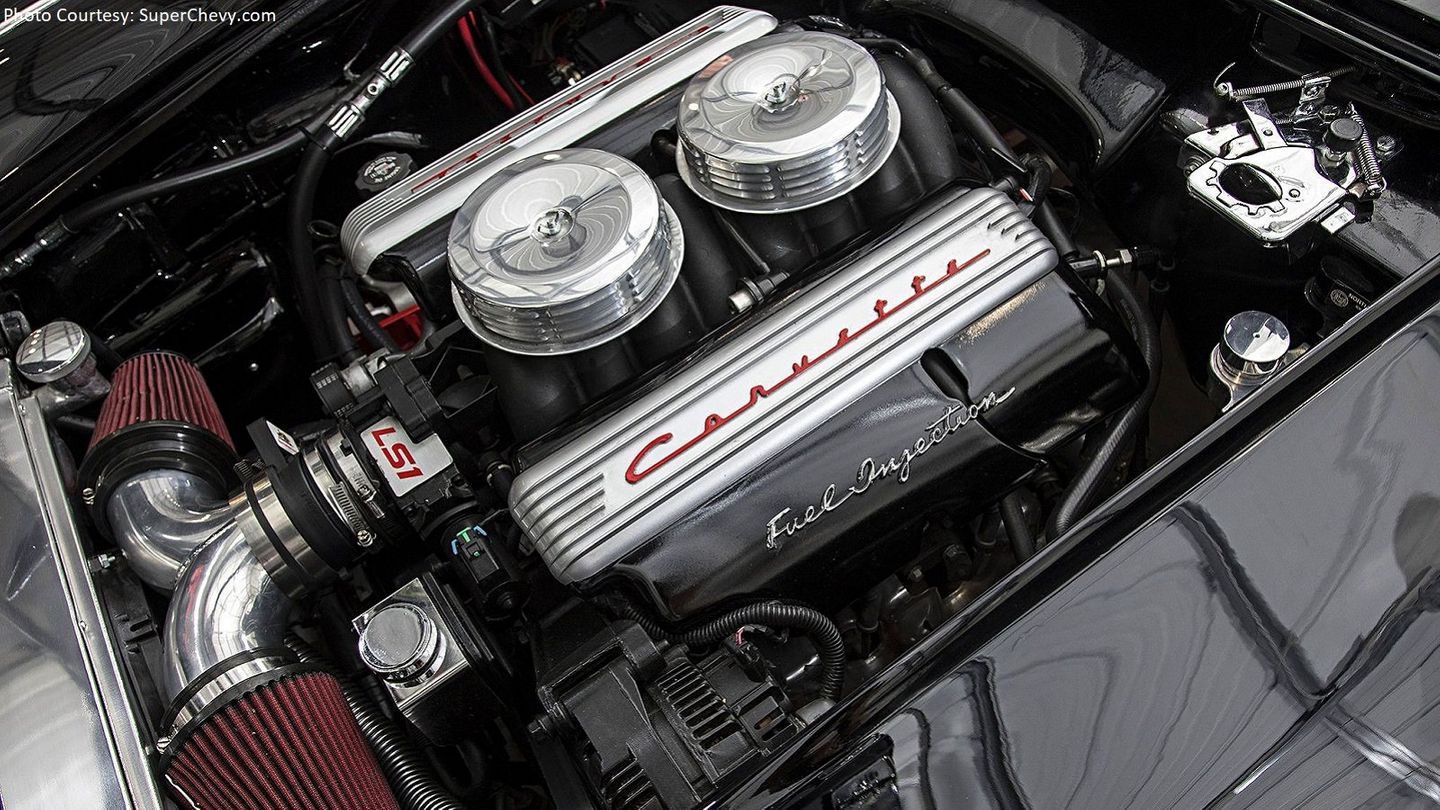 Steering
Of course, one of the secrets of the old car hobby is how miserable these cars can be to drive, especially if they lack power steering. Parallel parking a classic era town car is a fairly arduous way to build upper body strength. One solution that helps is switching to radial tires from bias plies, although there's another solution. In recent years, automakers have been switching to electric power steering from hydraulic power. As a result, the aftermarket now makes bolt-on electric power steering units that can be hidden out of site, so no car show judge will be the wiser.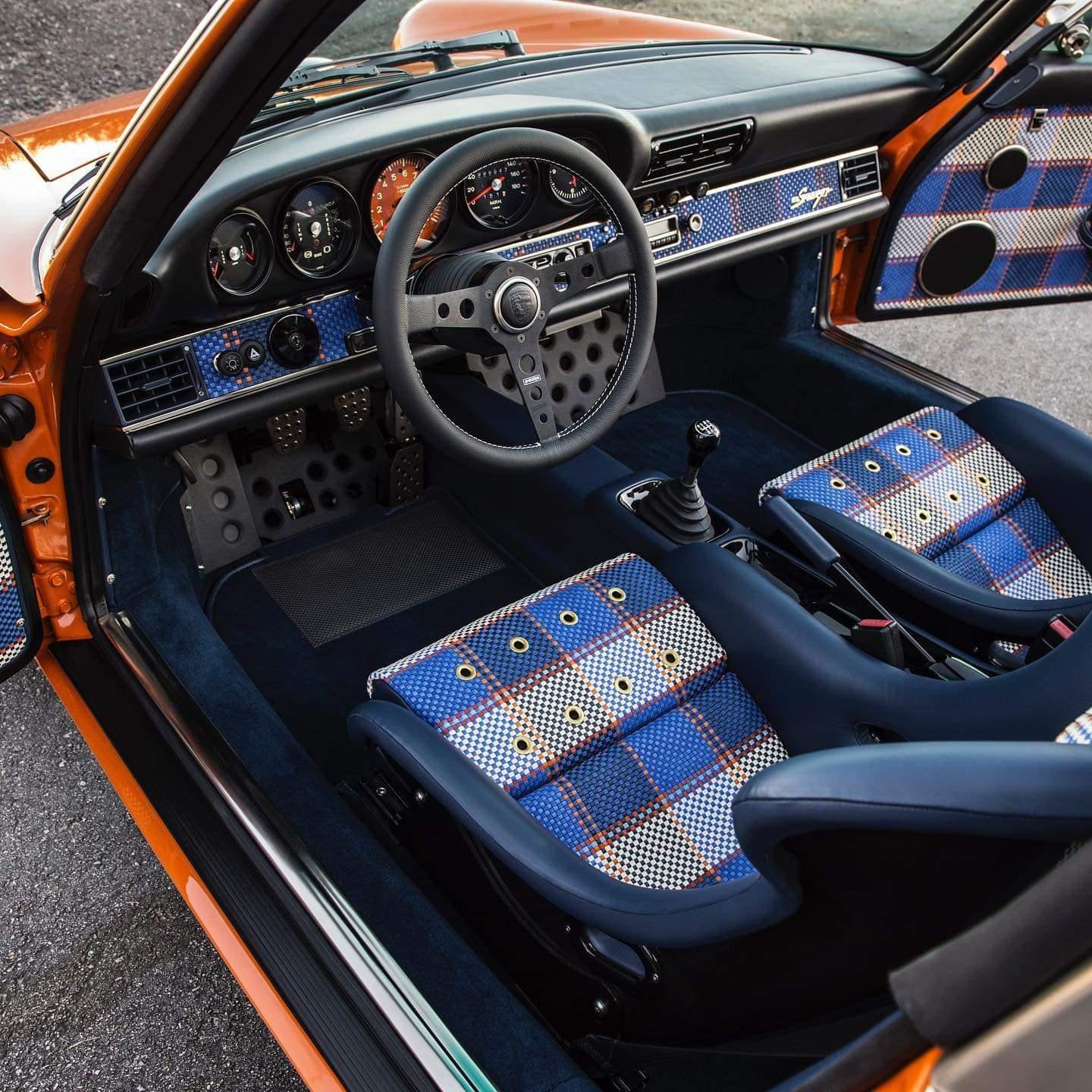 Safety and Lighting
You should also consider switching out your old sealed-beam headlights for more modern halogen headlights, or high-intensity discharge lights. There are even replacements available for certain models that look old school (and fit in the original housings) but aren't.
And if your car didn't come with them, consider installing safety belts. Although they may not have been available at the time your car was built, many car shows will look the other way.
Finally, you could just take the whole car and lift it off the old platform and place it on a modern one. Pricey? Sure. But it gives you the old school look, it provides all of the modern amenities.

Conclusion
Just ask Jay Leno. He worked with Ford, taking a 1968 Ford Bronco and stuffing it with a modern supercharged 5.2-liter V-8 from the Ford Mustang Shelby GT500 along with a TREMEC five-speed manual transmission. A heavy-duty four-wheel-drive drivetrain with upgraded performance engine, exhaust and suspension components, complete the transformation, turning this truck into a 760-horsepower bucking Bronco.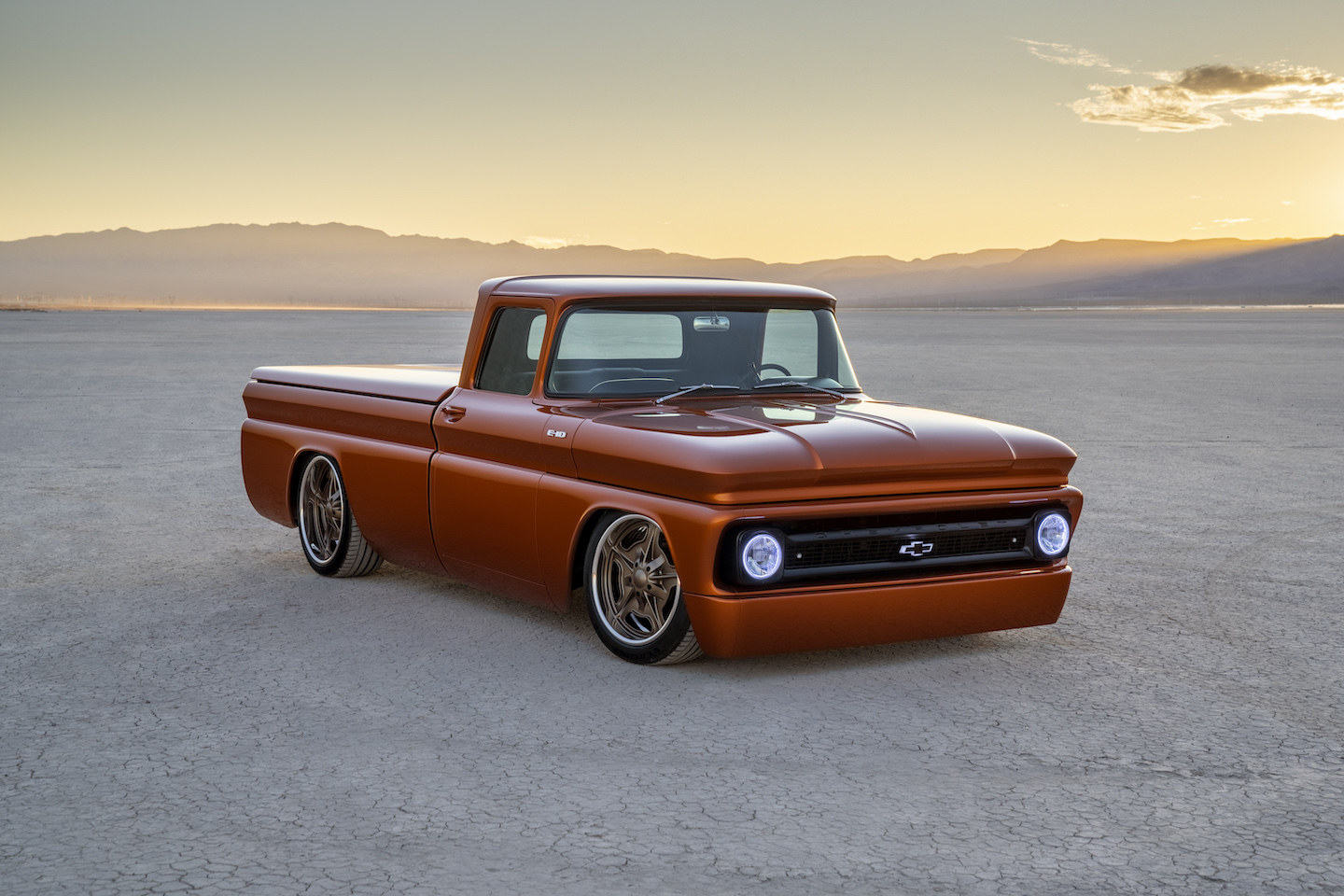 Not to be outdone, Chevrolet transformed a 1962 C-10 pickup into an electric hot rod named the E-10 Concept. Using components from the Chevrolet Bolt EV, the E-10 generates 450 horsepower from a double stack of Chevrolet Performance concept electric crate motors under the hood, two 400-volt batteries in the pickup bed, and an automatic transmission. Chevrolet says the E-10 delivers zero-to-60 mph times of about 5 seconds, and a quarter-mile time in the 13-second range. Modern updates also include an illuminated Bowtie emblem in the grille, LED headlamps and taillamps, and a lowered stance accented with 22-inch rear wheels and 20-inch fronts.
Restomods are a great way to have the best of both worlds, and are essentially classic cars with modern technology. And although the updates change the feel of the car, it also makes it far more fun, not to mention safe to drive in modern traffic.
Photos via Bonhams, Clarion, General Motors, Swinger Vehicle Design, Porsche AG.
Powered by Froala Editor